Immersive audio-visual performance The Mirror by People Like Us
Post-performance discussion: Vicki Bennett, Olga Goriunova & Marcell Mars (moderated by Tomislav Medak)
We invite you to the immersive cinematic performance The Mirror by People Like Us and a discussion on the futures of digital avant-garde kicking off the activities of the Ubu@50 – 50 Ubus project. The Mirror is an audio-visual collage created from hundreds of feature movies, guided by the idea that the camera is a torch that shines light down dark corridors and an eye that watches people when they are alone. The conceptually related soundtrack, accompanying the performance, was selected as one of the best ten albums in the 2019 annual critics poll by The Wire.
***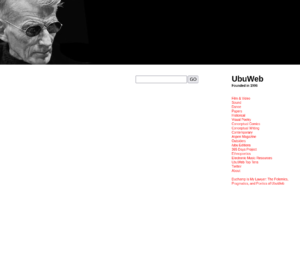 UbuWeb (ubu.com) is arguably the largest web archive of avant-garde art. Ubu has recently turned 25. For about the same time the Internet has been a mass medium on a global scale, the US American conceptual artist Kenneth Goldsmith has alone, using the simplest HTML code, asking no permissions, collected, organized and made available to anyone otherwise inaccessible works of experimental cinema, video art, contemporary theatre and concrete music. Years before museums and archives had started to digitize the collections from their vaults, Ubu made possible discovery of works that have played an important role in cultural history, or could play in the future. However, in these times of digital platforms, dataveillance and copyright control valuable archives such as Ubu can disappear overnight.
With _Ubu@50_ we want to open a debate on what are the future developments that would allow for Ubu and other autonomous digital archives to persist and thrive for another quarter of a century. What futures can we imagine for the avant-garde starting from the ubiquity of digital infrastructures, intensive application of artificial intelligence and privileging of technological responses to social and environmental crises? And in turn, what futures can we imagine for societies starting from the resilient use of technologies, radical avant-garde gestures and practices of commoning that were achieved through digital cultures over the last quarter of a century?
Vicki Bennett / People Like Us is a British artist working across the field of audio-visual collage, repurposing pre-existing footage to craft audio and video collages with an equally dark and witty take on popular culture. She sees sampling and collage as folk art sourced from the palette of contemporary media and technology, with all of the sharing and cross-referencing incumbent to a populist form. Embedded in her work is the premise that all is interconnected and that claiming ownership of an "original" or isolated concept is both preposterous and redundant. In 2006 she was the first artist to be given unrestricted access to the entire BBC Archive. People Like Us have previously shown work at Tate Modern, The Barbican,, Sydney Opera House, Royal Albert Hall, Pompidou Centre, Venice Biennale and Sonar, and performed radio sessions for John Peel and Mixing It. The People Like Us back catalogue is available for free download hosted by UbuWeb.
Olga Goriunova is a cultural theorist and a professor in the Media Arts Department at Royal Holloway, University of London. In the 2000s, she curated Readme software art festivals (Moscow 2002, Helsinki 2003, Aarhus 2004, Dortmund 2005), co-organized the software art repository Runme.org and an international exhibition Funware that was first shown in Arnolfini gallery in Bristol. In her interdisciplinary research she draws on theories of computation, art and literature as well as philosophy. She is interested in the processes of subjectivation in relation to technology and aesthetics but also in thinking beyond the human, in terms of posthuman ecologies. My earlier work in media art is linked to my newest interests in the digital abstractions of the subject through an interest in what happens to the human – gendered and racialized – in networked cultures.
Marcell Mars is one of the founders of Multimedia Institute/MAMA in Zagreb. His research Ruling Class Studies, started at the Jan van Eyck Academy (2011), examines state-of-the-art digital innovation, adaptation, and intelligence created by corporations such as Google, Amazon, Facebook, and eBay. He is a doctoral student at Digital Cultures Research Lab at Leuphana University, writing a thesis on Foreshadowed Libraries. Together with Tomislav Medak he founded Memory of the World/Public Library, for which he develops and maintains software infrastructure.
***
In partnership with the Museum of Contemporary Art – Zagreb.

***
"Ubu@50 – 50 Ubus" is a part of Multimedia Institute's "Public Library" programme. It is being developed as an activity within the "Peripheral Visions" project, a partnership between EIPCP, Kontrapunkt, Kuda.org, Kulturtreger, Maska and Multimedia Institute, funded by the European Union. "Public library" is supported by the Ministry of Culture and Media of the Republic of Croatia.

Funded by the European Union. Views and opinions expressed are however those of the author(s) only and do not necessarily reflect those of the European Union or European Education and Culture Executive Agency (EACEA). Neither the European Union nor the granting authority can be held responsible for them.